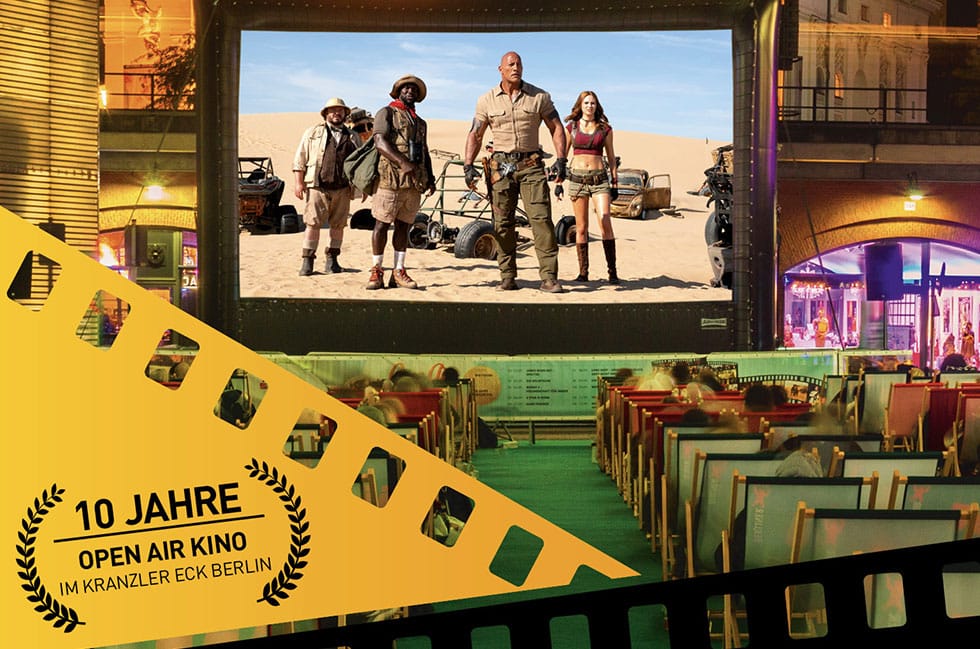 The big cinema anniversary event at the Kranzler Eck continues: Berlin's most famous corner is celebrating the 10th edition of its open-air summer cinema with a number of very special films. Between 26 August and 4 September, real blockbusters and film classics will once again be shown daily on the big screen between the Ku'damm, Kant- and Joachimsthaler Straße. And, as ever, it is all free. To start it all off on 26 August, two prehistoric giants do battle in the science fiction thriller Godzilla vs. Kong. Following Mary Poppins Returns – the first of two children's films – the crime caper Ocean's 8 and the action-packed Spider-Man – Far From Home will be screened. There is something for everyone every day until the 10th open-air summer cinema event draws to a close on 4 September with the romantic comedy Long Story Short. The Kranzler Eck Berlin kicked off the celebrations to mark the 10th anniversary of its open-air cinema with the spring cinema event in April. Parallel to the free cinema evenings, the shops, cafés and restaurants at the Kranzler Eck Berlin once again invite you to shop and dine.
From 26 August to 4 September 2022
Entry: daily from 7 p.m.
Abendschau live: 7.30 p.m.
Start of main film: 8 p.m.
You can find out more about the summer cinema event and the entire programme here.
Competitions
On Instagram you also have the chance to win daily prizes. Click here to find out more.*
*Terms and conditions competition entry:
Residents of Germany aged 18 or over are eligible to enter. Entry is free of charge and not subject to any kind of obligation. Multiple entries are possible. The winners will be determined after the closing date for entries and subsequently notified. Data will be collected solely for the purpose of the competition. It will be deleted after the promotional period and will not be shared with any third parties. The organiser reserves the right to check the identity of the winner, e.g. by inspecting their ID or passport, prior to handing over the prize. The judges' decision is final in relation to the organisation of the promotion and the awarding of any prizes.