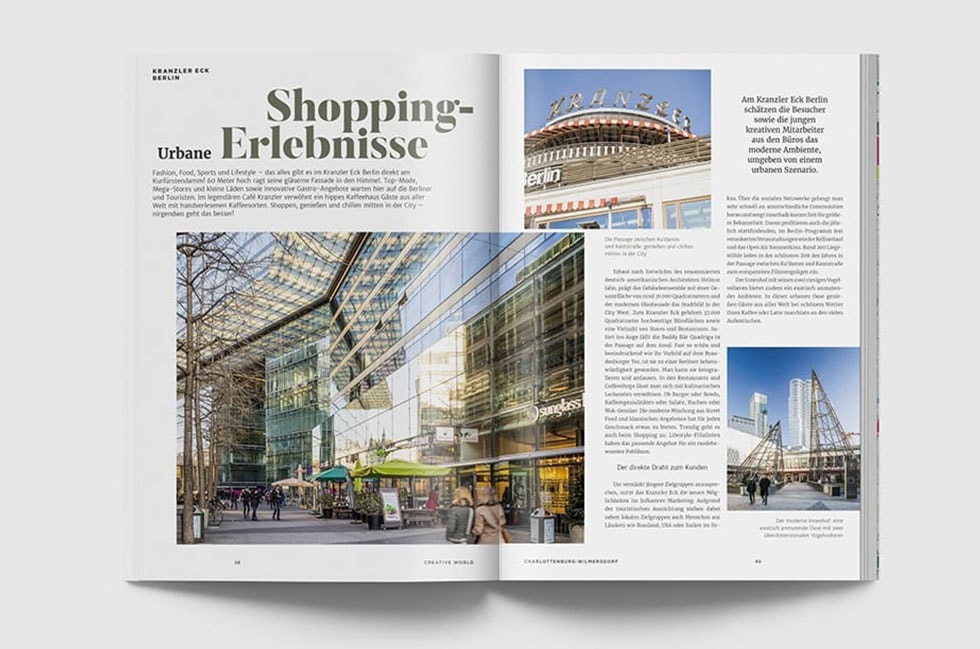 Creativity is a core skill in nearly all sectors today – Charlottenburg-Wilmersdorf has recognised this and successfully advertises its partners in the district with the "Creative World" campaign.
The campaign aims to showcase the district's creative sides and make them known beyond the district boundaries. We are also taking part and positioning ourselves as an attractive, vibrant shopping quarter right at the heart of City West. A total of 36 prominent companies are involved, including Porsche, Mercedes-Benz, Bikini Berlin, the Ellington Hotel, the Volksbank, ADAC, the zoo and Messe Berlin.
An appealing district portrait constitutes the core of the campaign and is available in the Charlottenburg-Wilmersdorf City Hall and other district facilities. With its perfectly photographed images, it draws you to Charlottenburg-Wilmersdorf and emphasizes its diversity. It also includes interesting information on the district and the partners of the location campaign. 37 digital boards throughout Berlin attract additional attention.
See for yourselves at: www.creative-world.info